Alan R. Fish
Vice President for Facilities and Real Estate
Office of Facilities and Real Estate
The Johns Hopkins University
3910 Keswick Road, Suite N3100
Baltimore, Md. 21211
Phone: (443) 997-8767
Fax: (443) 997-4428
E-mail: afish6@jhu.edu
Website: Office of Real Estate and Campus Services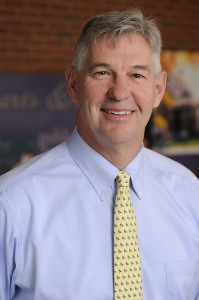 Alan R. Fish joined The Johns Hopkins University in January 2012 as its first vice president for facilities and real estate.
The position was created to enhance the university's ability to take a strategic, coordinated, cost-effective approach to planning, developing and managing on- and off-campus facilities and to delivering related services, such as transportation.
His priorities, Fish says, include providing first-rate customer service to the schools and other Johns Hopkins units and ensuring that real estate and facilities decisions make the maximum possible contribution to achievement of the university's strategic goals.
Before joining Johns Hopkins, Fish had been at the University of Wisconsin-Madison since 1989, serving as associate vice chancellor for nearly nine years. He was in charge of planning, capital budgeting, construction and maintenance for a 900-acre campus with more than 330 buildings. He was responsible for nearly 1,200 employees and an operating budget of nearly $80 million. He oversaw the process that built a new campus master plan.
Prior to serving as associate vice chancellor, Fish was associate athletic director and administrative officer for intercollegiate athletics at Wisconsin-Madison, responsible at various times over 13 years for capital projects, budget, personnel, facilities and competition management, and operations of the football and rowing programs.
He has also worked in various budget and policy positions in Wisconsin state government, including as the governor's legislative liaison and as deputy director of the Governor's Office of Recovery and Reinvestment.
Fish is a 1973 honors graduate of Luther College and earned a Master of Science degree in urban and regional planning from Wisconsin in 2001.
[Updated January 2012]